Selected Projects
A collection of projects from Sonja Henderson.


Memory: Mamie and Emmett Till Memorial


When a person disappears, everything becomes impregnated with that person's presence. Every single object as well as every space becomes a reminder of absence, as if absence were more important than presence. ~Doris Salsedo
Memory: Martin Luther King Jr. Memorial
Memorial tribute to MLK and the grassroots Fair Housing Marches which took place in Chicago in 1966. Marquette Park, 67th and Kedzie.
Ritual: The Ancestor and The Boom-

Earphone Headdress & Holster, with original soundscape by Rob Bradford

Sonja Henderson believes in the alchemy of elements and ritual of making to create artwork imbued with energy and high vibratory frequency.
Restorative: Soil Lab (CAB)- Visiting Artist

Restoring community and vacant lots with the Soil Lab team and Lawndale neighborhood. Creating rammed earth walls from soil, clay, sand and water with a 17th century wooden mold and method.

Ritual: Soil Lab- "Full Circle" Workshops

Restorative Justice clay workshops conducted with Alfonso Piloto Nieves within the hand built, rammed-earth walls of Soil Lab on 13th and Pulaski. The ritualized workshops help heal, ground and transform the people, place and space.
Memory: Right To The Shoreline- Beach Access

Mixed-media installation telling the history about Jim Crow laws and codes keeping People from accessing public shorelines. Whose beach? Exploring red-lining, gentrification, racism, human rights and water rights.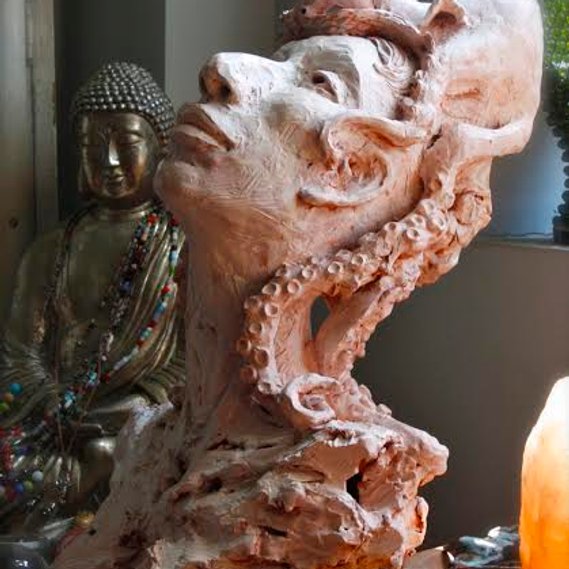 Ritual: Mixed-Media Sculpture

Hand built figurative and ritual sculptures created with ceremonial and found objects imbued with N'kisi, energy or life force.
Restorative: Perma Park Workshops

Restorative Justice clay workshops conducted with Alfonso Piloto Nievesand the Lawndale community. The ritual clay portrait workshops help to dissolve and release negative stereotypes, social and societal constructs while rebuilding a visionary image of one's self.